FivePoint Amphitheatre | Irvine, California
Throw your rock 'n' roll salutes to the air and jam along with two of today's most relevant bands in the rock music scene this Thursday night, September 8, 2022, at the FivePoint Amphitheatre in Irvine, California. Join the multi-platinum-selling bands Alice in Chains and Breaking Benjamin come together for the first time in one hardcore concert event that will definitely rock your summer! Along with the British Band Bush, Alice in Chains and Breaking Benjamin's concert is part of their anticipated 30-city tour across the country. With numerous hit songs from these three (3) bands, this concert is expected to be a hit among rockheads who have been dedicated followers of the band all these years. If you are one of them, make sure to reserve your tickets now and don't miss this once-in-a-lifetime collaboration! Get your tickets here! Click on the links now!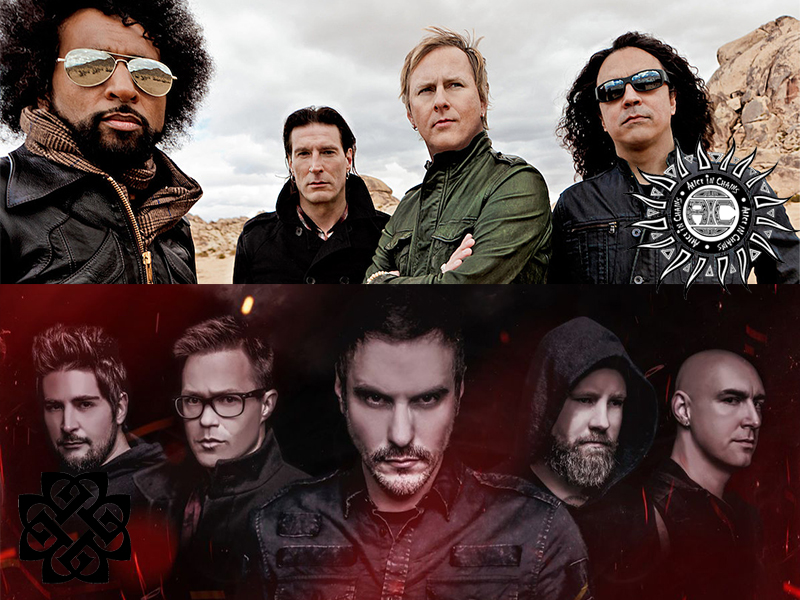 Considered as an instrumental force in the grunge music scene, Alice in Chains enjoys a cult following, especially from 90's kids, even after the death of its lead vocalist Layne Staley in 2002. The band's hiatus did not prevent fans from appreciating and following the band's grunge and heavy metal music. The songs "Would?," "Rooster," and "Them Bones," among many others, have spoken to a generation of rockheads in the 90s and early 2000s. Thus, their influence is still even felt in today's GenZ. The band was able to release six studio albums from 1990-2018, with "Rainier Fog" as its latest.
Co-headlining the veteran Alice in Chains is the Pennsylvania band Breaking Benjamin. Led by the lead vocalist and guitarist Benjamin Burnley and drummer Jeremy Hummel, the band was formed in 1999 and broke into the limelight with their "Saturate" album released in 2002 and "We Are Not Alone" in 2004. With years of inactivity and few changes among band members, the band stayed standing amidst challenges and remains to have a loyal following among fans who enjoyed their brand of hard and alternative rock. Their hits include the most recent "Aurora" and "Far Away," and other classics such as "Dear Agony," "Dance with the Devil," and "Give Me a Sign (Forever and Ever)."
It is the first time the two bands are co-headlining a tour. Thus, both bands are excited to show their fans what is up their sleeves.
"We're looking forward to finally hitting the road again this summer. It's been too long and we can't wait to get outdoors and share a night of music with our fans again," said Alice In Chain's Sean Kinney in an interview about the upcoming tour.
The two bands will be touring along with the British rock band, Bush. The band is also a household name in the rock music scene and is most famous for their hits such as "Glycerine," "Come Down," "Machinehead," among many others! With this solid lineup, fans can expect to be jamming along from one hit to another. So make sure to grab your tickets as early as now! Call all your rockhead friends and enjoy a night you will surely dig! Click on "Get Tickets" now.