FivePoint Amphitheatre | Irvine, California
The boys who got us singing 'you are my fire, are back the way we want them. The Backstreet Boys are back on the DNA World Tour in support of their successful ninth studio album of the same name. As one of the best-selling artists to exist since '95, the boys are definitely back to win your hearts at the DNA World Tour, performing hits that shook hearts around the globe including "Quit Playing Games (With My Heart)", "As Long as You Love Me", and "I Want It That Way". Moreover their classic hits, you can expect the boys to perform newer songs off of their latest studio record, "DNA", such as "Chances" and "Don't Go Breaking My Heart". Since their world domination in '95, the Backstreet Boys aren't breaking any of their fans' hearts anytime soon as they embark on serenading the world through years of heart-fluttering hits stopping by at FivePoint Amphitheatre on Sunday, June 5th, 2022. Book your tickets now!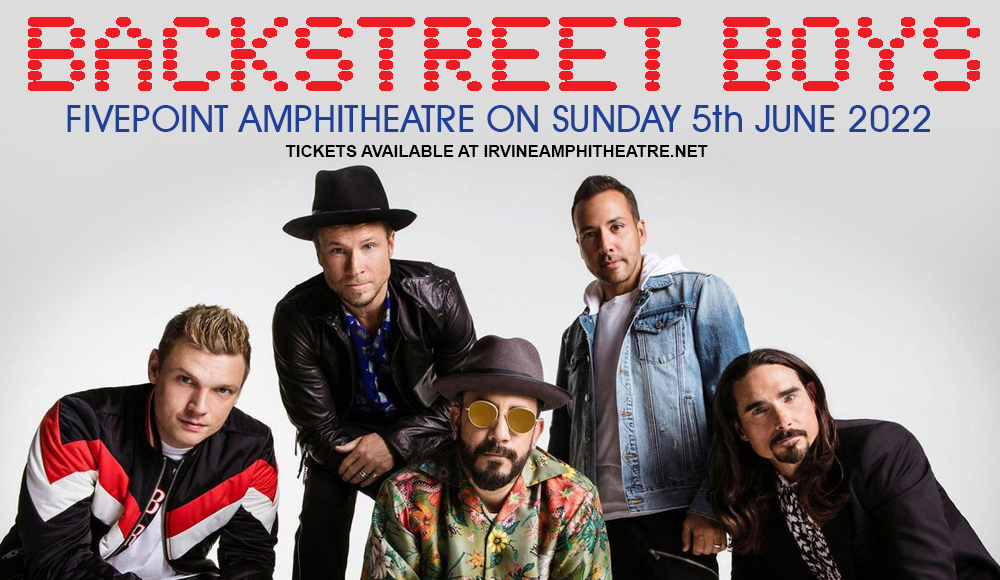 It all began when Howie Dorough and AJ McLean met through a vocal coach, then brought in Nick Carter whom they discovered through auditions. Discovering they could harmonize well, the early trio was thus born. Then joined the roster were Kevin Richardson and Brian Littrell, hailing from Kentucky.
Their first single "We've Got It Goin' On" received minor success in the US in 1995, though hit the Top 5 in European countries. The Backstreet Boys then dropped their debut self-titled album in 1996. The album propelled the boys to global fame, featuring its hit singles "I'll Never Break Your Heart" and "Quit Playing Games (With My Heart)".
At the onset of their global breakthrough, they soon started working on their follow-up record "Backstreet's Back", released in 1997. The album's singles "Everybody (Backstreet's Back)", "As Long as You Love Me", and "All I Have to Give" were all a commercial success, certified platinum by the RIAA. Both albums sold over twenty-eight million copies around the globe. As the years went by, the Backstreet Boys continued to drop hits after hits including "Larger Than Life", "Shape of My Heart", "I Want It That Way", and "Incomplete".
The Backstreet boys marked history as one of the best-selling artists in the US with over thirty-seven million albums shipped. With data dating back to 2010, the vocal harmony group has sold over a hundred million records globally at the time.
Though they won the hearts of 80s and 90s babies during their peak in the late 90s, the Backstreet Boys' legacy continues to live on, dropping their newest album "DNA" in 2019. The album hit #1 on the US Billboard 200, staying true to the Backstreet Boys' signature pop harmonies.
Since their first single in 1995, the Backstreet Boys have remained true to their pop-driven DNA with their signature harmonies to lyrics that snatch the hearts of listeners across the globe.
No matter what generation, 80s, 90s, or 2000s babies, every pop-music aficionado surely has got 'tell me why, ain't nothing but a heartache' stuck in their DNA.
Relive the Backstreet Boys' biggest hits and their newest songs live on stage at the DNA world tour. So, grab your tickets now!