FivePoint Amphitheatre | Irvine, California
The 'Beachago' phenomenon that made waves in 1974 is hitting these shores again with an awesome twist! Chicago and the Beach Boys went on a joint tour that year; and now in 2022, rock band Chicago and Brian Wilson will embark on a double-headliner tour along with fellow Beach Boys co-founder Al Jardine, as well as South African singer Blondie Chaplin. This stellar tour de force will dock and hit the live stage of the FivePoint Amphitheatre on Friday 10th June 2022. Get a heady mix of 'rock and roll with horns' and cool and breezy California sound, truly a nostalgic trip like no other. The combined forces of their solid-loyal fanbases make this show a hot ticket! Don't wait 'til the last minute. Lock in that date and book your tickets now!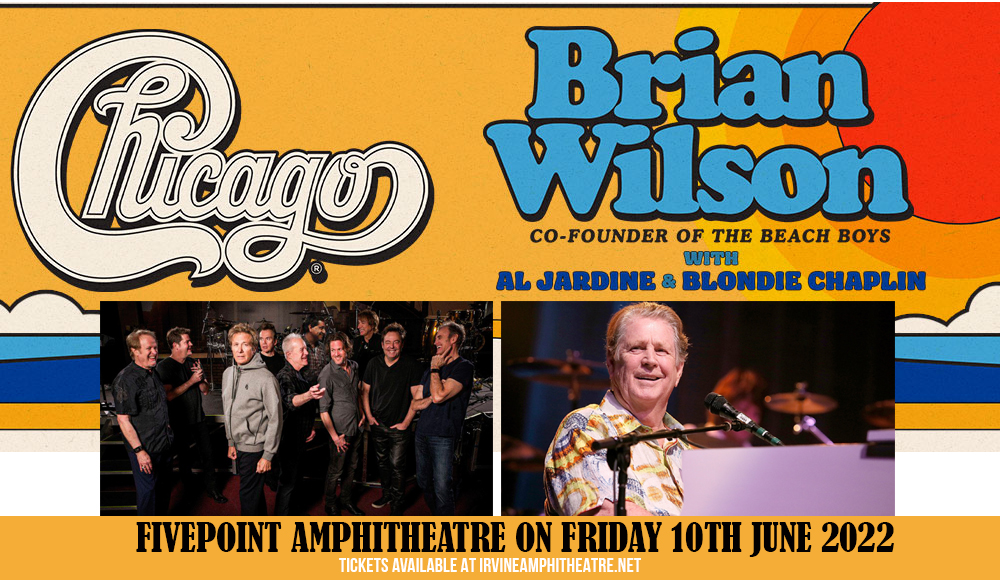 A deeply revered icon in the music industry and a highly quintessential pop-jazz-rock band — this combination on the live stage could be one of the most exhilarating and unforgettable concerts ever in this lifetime. Chicago, Brian Wilson, and Al Jardine of the Beach Boys… it happened once before as 'Beachago'. Now 47 years forward, this phenomenon will make history once more in 2022.
Brian Wilson is a singer-songwriter who is best known as one of the founding members and a major creative force in The Beach Boys' monumental music career. He is regarded as the prime mover of the so-called 'California sound', where he took his band, The Beach to a colossal wave of hits which include "Surfin' USA", "I Get Around", "Good Vibrations", "God Only Knows", "Wouldn't It Be Nice", and many, many more. He is considered a genius, a record production wizard with his innovative and groundbreaking techniques; and his remarkable songwriting genius makes him one of the significant songwriters of the 20th century.
Former President Bill Clinton called them as one of the "most important bands in music since the dawn of the rock and roll era". True to their Windy City origins, Chicago has been hailed by many as a legendary rock and roll band with horns. Chicago has set itself apart from other rock bands as they masterfully blended elements of classical music, jazz, R&B, and pop music, and gave it a kick of good ol' rock and roll. With albums sales of over 100 million records (and still counting), Chicago placed #4 in the highest charting American band in the chart's history, in Billboard Magazine's recent Top Bands And Duos, and became the first American rock band to chart Top 40 albums in six consecutive decades. This 2016 Rock and Roll Hall of Fame inductee has made fans all over the world sing-along to their timeless classics such as ""Saturday In The Park," "Feelin' Stronger Every Day," "Make Me Smile," "Hard To Say I'm Sorry", "If You Leave Me Now", and many more!
Chicago and Brian Wilson, featuring Al Jardine & Blondie Chaplin … Book your tickets now to this phenomenal show!