FivePoint Amphitheatre | Irvine, California
What better way to spend the summer than at the FivePoint Amphitheatre on July 20! Disturbed, Breaking Benjamin and Jinjer will set the open space venue ablaze with their loud, distorted, and aggressive vocals. Experience firsthand the immense power Disturbed music has, jam with songs such as "The Sound of Silence" and "Vengeful One." If you want more, Breaking Benjamin plays deep, reverberating harmonies like "Angel Falls" and "Dance With The Devil." To perfect this concert, wrapping the lineup is Jinjer with their diverse and attention-grabbing hits like "Vortex" and "Mediator." Head bangs and dense tunes are to be expected on this breezy night. What are you waiting for? Buy tickets now before they sell out!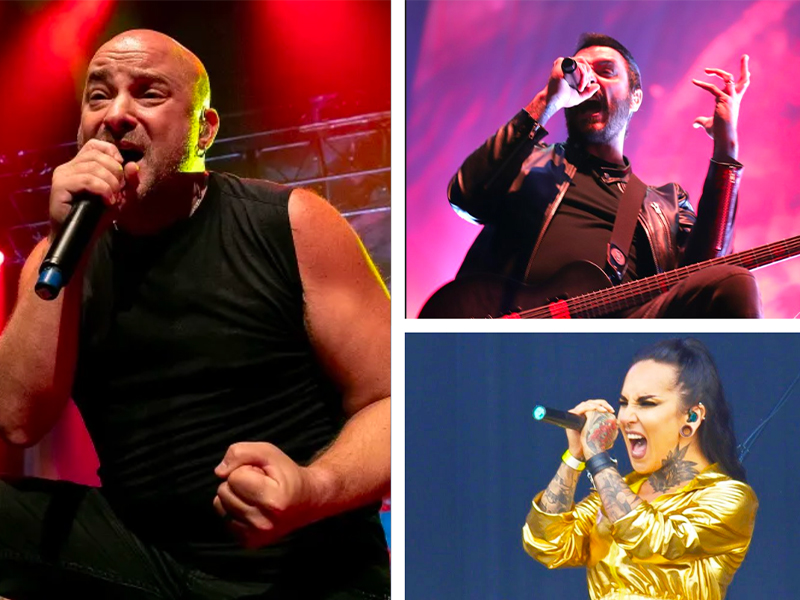 Disturbed is one of the best metal bands of the 2000s due to their aggressive and alternative sound, which has captured the trend of the time. Lead vocalist David Draiman, guitarist and keyboardist Dan Donegan, bassist John Moyer, and drummer Mike Wingren comprises the band. The band has produced eight studio albums; all are successful in their own right. Their best album is their debut entitled "The Sickness," which slowly gained acclaim as time passed. Five of their albums were also consecutive top charts on the Billboard 200 charts. The albums are "Believe" (2002), "Ten Thousand Fists" (2005), "Indestructible" (2008), "Asylum" (2010), and "Immortalized" (2015).
The hard rock band Breaking Benjamin is best known for their music, considered a hybrid of alternative rock and metal. Due to their changes in the lineup, they have diverse-sounding albums leading to changes in style preference. Their first two albums, "Saturate" (2002) and "We Are Not Alone" (2004), are considered to be their heaviest hitters. "Phobia" (2005) and "Dear Agony" (2009) are explorations of their darker and rousing tunes. "Dark Before Dawn" (2015) and "Ember" (2018) are gritty and are a return to their classic sound.
Ukraine's best metalcore band, Jinjer, fuses metal with unique Ukrainian sounds. Their versatility has brought them internationally and has spawned albums such as "Cloud Factory" (2014) and "Wallflowers" (2021). Currently, the band comprises Tatiana Shmailyuk, Roman Ibramkhalilov, Eugene Abdukhanov, and Vladislav Ulasevich.
On July 20, the three bands will set the FivePoint Amphitheatre ablaze with their exhilarating music. Buy your tickets here.