FivePoint Amphitheatre | Irvine, California
It's the end of the road as we know it, and it's going to go out with one massive bang! KISS with their End Of The Road World Tour comes to FivePoint Amphitheatre on Thursday, September 9th 2021. It's finally here, Kiss have reached the end of the road, you do not want to miss this, One last Tour, one last show, one last chance to catch this legendary band live. Buy your tickets for LoudWire's third "Best Metal and Hard Rock Live Band of All Time," MTV's ninth "Greatest Metal Band of All Time," and VH1's tenth "Greatest Artists of Hard Rock."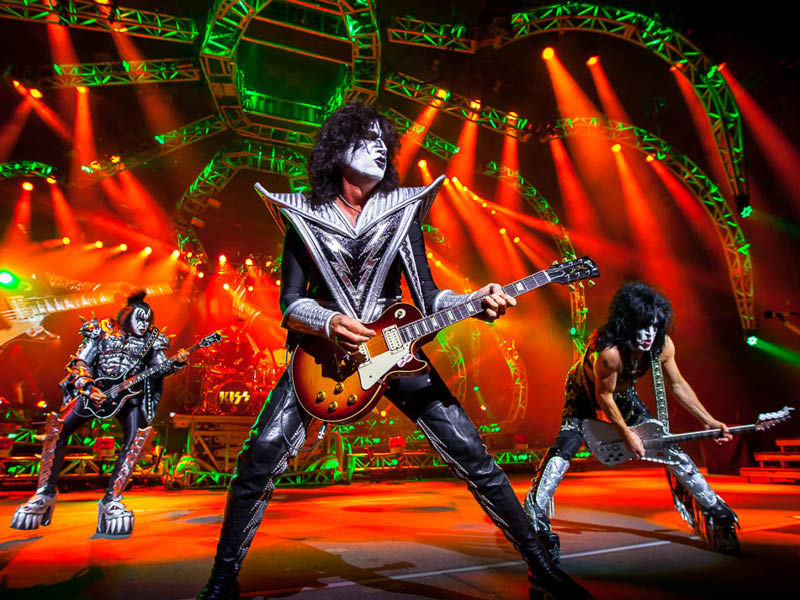 "All that we have built and all that we have conquered over the past four decades could never have happened without the millions of people worldwide who've filled clubs, arenas and stadiums over those years. This will be the ultimate celebration for those who've seen us and a last chance for those who haven't. KISS Army, we're saying goodbye on our final tour with our biggest show yet, and we'll go out the same way we came in… Unapologetic and Unstoppable," said KISS.
KISS are Paul Stanley playing rhythm guitar, Gene Simmons playing bass, Eric Singer on drums and Tommy Thayer playing lead guitar, they have sold more than 100 million albums worldwide, with thirty Gold albums, fourteen Platinum albums, of which three albums being multi-Platinum, they have toured to nearly every city on the planet and played every venue imaginable with their elaborate live performances, featuring fire breathing, blood-spitting, smoking guitars, shooting rockets, levitating drum kits, pyrotechnics and much more. KISS, as the original four members, Paul Stanley, Gene Simmons, Peter Criss, and Ace Frehley, was inducted into the Rock and Roll Hall of Fame in 2014.
"A commercially potent mix of anthemic, fist-pounding hard rock, driven by sleek hooks and ballads powered by loud guitars, cloying melodies, and sweeping strings. It was a sound that laid the groundwork for both arena rock and the pop-metal that dominated rock in the late 1980s." – Stephen Thomas, Kiss Biography.