FivePoint Amphitheatre | Irvine, California
Lynyrd Skynyrd comes to FivePoint Amphitheatre on Friday 1st October 2021 as part of their Big Wheels Keep on Turnin' Tour! Fan of the group will know that this is an unmissable opportunity, as they announced their retirement from touring in 2018 with the Last of the Street Survivors Farewell Tour! However, life had other plans and their tour was cut short by the COVID-19 pandemic, so now the band will hit the road one last time to bring you all their classic hits like "Free Bird," "Sweet Home Alabama," "Simple Man," "What's Your Name," "That Smell," "Gimme Three Steps," and more, LIVE!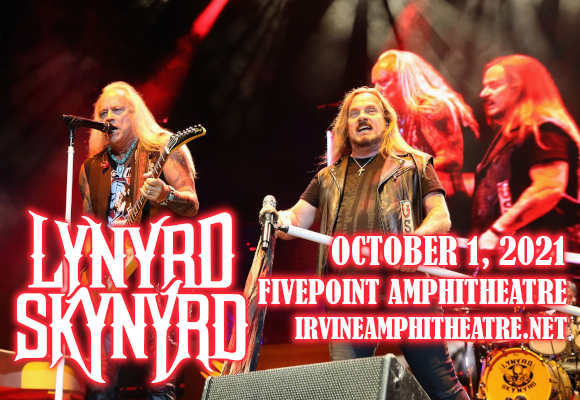 Lynyrd Skynyrd started their life as a Southern rock band in Jacksonville, Florida in 1964, performing for the first five years under the name My Back Yard. After signing to MCA, they were launched to stardom with the release of their 1973 debut album, which sold over one million copies and gave the world their iconic single "Free Bird". The following four years were a time of fame and fortune for the group, who released five studio albums, one live album, and numerous hit singles, including their signature song, "Sweet Home Alabama." In a devastating turn of events, tragedy struck just three days after the release of their 1977 album Street Survivors – their chartered airplane crashed, resulting in the death of Ronnie Van Zant, Steve Gaines, and backup singer Cassie Gaines, and leaving the rest of the band seriously injured. After ten years of time away from music, the band's remaining members regrouped with Johnny Van Zant, Ronnie's brother, as lead vocalist. Since then, the group has continued to record and tour together, although their upcoming tour and album will be their last, after nearly 60 years in the industry.