FivePoint Amphitheatre presented by Mercury Insurance | Irvine, CA
The band who shook the world with only 8 letters they couldn't happen to say is finally back on the road, aboard The Good Times Only Tour, in support of their newest album "The Good Times and the Bad Ones". Catch the boys stop by at FivePoint Amphitheatre, performing their biggest hits such as "I Don't Belong in This Club", "Trust Fund Baby", "8 Letters", and fresh bops off of their latest record like "Slow Down" and "Fallin' (Adrenaline)". Get ready to scream those eight letters out loud as the boys exude their magnetic charm, singing the words to your favorite tracks live on the stage. So, book your tickets now!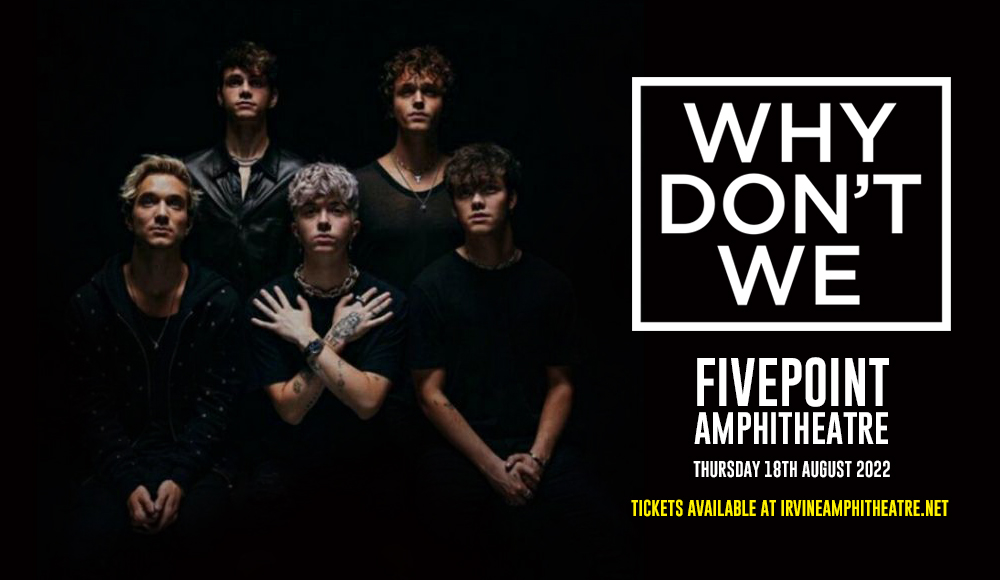 Why Don't We is made up of Jack Avery, Corbyn Besson, Zach Herron, Jonah Marais, and Daniel Seavey who all together caused fans around the world to scream those eight letters out loud. Formed in 2016, the friends from LA started dropping EPs, embarking on various tours which allowed them to build a loyal following.
By 2018, they released their debut album, "8 Letters", which paved the way toward their global domination. The album featured hit singles "Trust Fund Baby", "Hooked", and the RIAA Platinum single "8 Letters".
Why Don't We kicked off 2019 with a new single "Big Plans", which is awarded Gold by the RIAA. 'Big plans were indeed ahead of the band as they dropped hits after hits with their succeeding singles "I Don't Belong in This Club" with Macklemore, "Unbelievable", and "What Am I". They wrapped up 2019 with "Chills" before taking a nine-month break.
After their break, Why Don't We dropped "Fallin' (Adrenaline)", marking their big comeback ahead of the release of their 2021 album "The Good Times and the Bad Ones". The lead single marked their first entry in the Hot 100. Their sophomore album hit #3 on the Billboard 200 albums chart, marking their highest to date. This 2022, the boys just dropped their newest single "Don't Wake Me Up" with Jonas Blue.
From having 'big plans, the boy definitely reached new heights as they grow even bigger in the mainstream pop scene. Now, they're in it for 'good time only as live music makes its national comeback across the country. It's time to finally scream those '8 letters with the crowd as Why Don't We performs their biggest hits, your favorite bops, and new music live on stage. So hurry and book those tickets now!