FivePoint Amphitheatre | Irvine, California
It's all systems go as Coheed and Cambria & The Used officially announced their double-headlining tour. The extensive tour map shows strategic locations and prime concert venues in key cities and states. One such tour destination is pinned at the FivePoint Amphitheatre where Coheed and Cambria & The Used are scheduled to seize the concert stage on Friday 27th August 2021, with Meet Me @ The Alter to open the show. Both bands are big crowd drawers so expect tickets to be on the fly. Get your hands on those in-demand tickets right here, right now. Click on that 'Get Tickets' link now!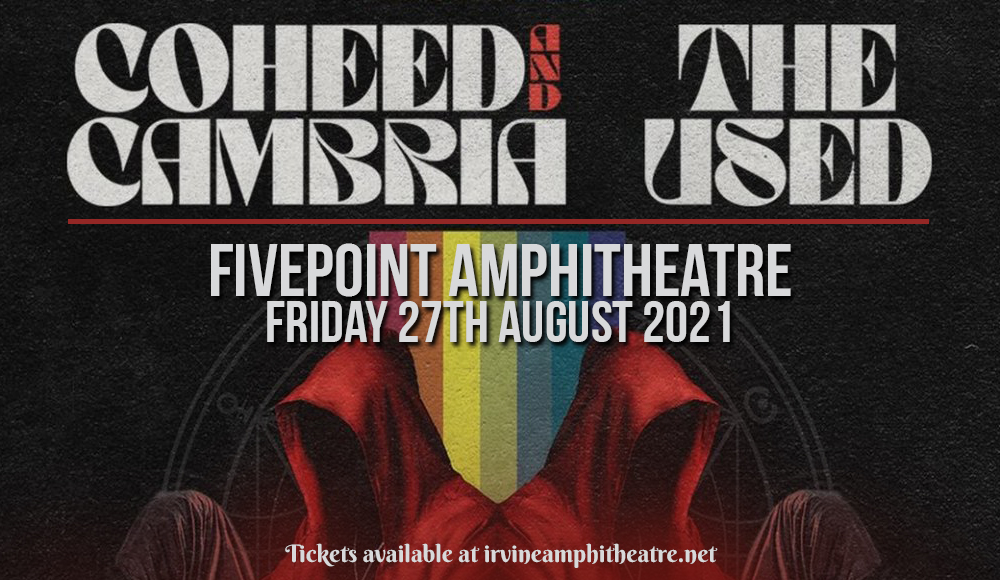 Coheed and Cambria and The Used may have crossed paths at one point somewhere in the 2000s. Their respective fans may have headbanged to their distinct beats. But both bands clearly made some noise during those times which reverberate and sound very relevant in this day and age.
Coheed and Cambria is loosely tagged as an American progressive rock band. In 1995, Claudio Sanchez (vocals, guitars, keyboards), Travis Stever (guitars, vocals), Josh Eppard (drums, keyboards, backing vocals), and Zach Cooper (bass, backing vocals), all from Nyack, New York, formed the band built on elements of progressive rock, pop, heavy metal, and post-hardcore. With Sanchez's background as a science fiction comic book writer, one of their significant albums is a concept album based on a science fiction storyline called The Amory Wars. This album has metamorphosed into a series of comic books as well as a full-length novel. Another concept album that sealed their mastery in this style is "The Unheavenly Creatures" containing 15 songs over 78 minutes. It debuted at #1 on Billboard's "Hard Rock Albums" chart, #6 current sales, and Top 15 on the "Billboard 200" chart. With Coheed and Cambria, expect the unexpected. Their more recent ventures include a team-up with GRAMMY Award-winning pop star Rick Springfield to re-work one of the most iconic stories in rock 'n' roll history with "Jessie's Girl 2", and launched their very own coffee brand, Coheed and Cambria Coffee Roasters.
The Used is considered one of the frontrunners in the emo-screamo genre. Howere, Bassist Jeph Howard has stated, "We just don't consider ourselves 'emo' or 'screamo' and we never have. We're a rock band, that's all we've ever been." Formed in 2001 in Orem, Utah, the group consists of vocalist Bert McCracken, bassist Jeph Howard, drummer Dan Whitesides, and guitarist Joey Bradford. Their commercial appeal is evidenced by the fact that all of the band's releases have charted on the Billboard 200. Some of their fan-favorite songs include: "Take It Away," "The Bird And The Worm," "Listening," "All That I've Got," "The Taste Of Ink," "I Caught Fire," "Buried Myself Alive," "Blood On My Hands," "Pretty Handsome Awkward" and "A Box Full Of Sharp Objects."
Two bands in one night will truly be a blast! Don't miss it, book your tickets now!