FivePoint Amphitheatre Information
Fivepoint Amphitheatre Presented by Mercury Insurance's address is 14800 Chinon, Irvine, California 92618. It is located in the middle of a big field or what used to be known as the El Toro Marine base.
Fivepoint was launched in mid-2018 to take over the original Irvine Meadows Amphitheatre that was permanently closed in 2016. This new venue is made for locals of Orange County as most concert venues are located in Los Angeles.
The current structure is a temporary makeshift structure thus, visitors can expect a better venue to be built in the future compared to now. Despite that, the sound system in Fivepoint Amphitheatre is just as amazing as an actual stadium. There is no distortion even for those who are sitting right in front of the stage.
Visitors do not have to worry about food and beverages once they arrive at the Fivepoint Amphitheatre. Concessions are diverse and bountiful. Event goers will find food trucks selling Mediterranean, Korean, and Mexican food, other than the typical hamburger and hot dog deals. As there are alcoholic drinks sold in immediate event space, Fivepoint Amphitheatre's concessionaire offers free fountain sodas to guests that commit to be the designated driver for their party. Designated drivers are to visit the Guest Services booth in the concession circle obtain their free soda.
Other than a wide range of food, there is also a wide range of alcohol sold! To name some, Budweiser, Bud Light, Stella Artois, and Shock Top Belgian White. Non- beer drinkers will be happy to know that there are cocktails and all kinds of wine sold around the venue too. However, prices can be painfully expensive. For example, beer is priced at about $25 per glass.
As mentioned before, the event is a temporary build thus, do expect that the restrooms available at the venue are portable toilets. They are mostly decently maintained and strategically located across FivePoint Amphitheater. Additionally, one can find genderless restrooms there as well.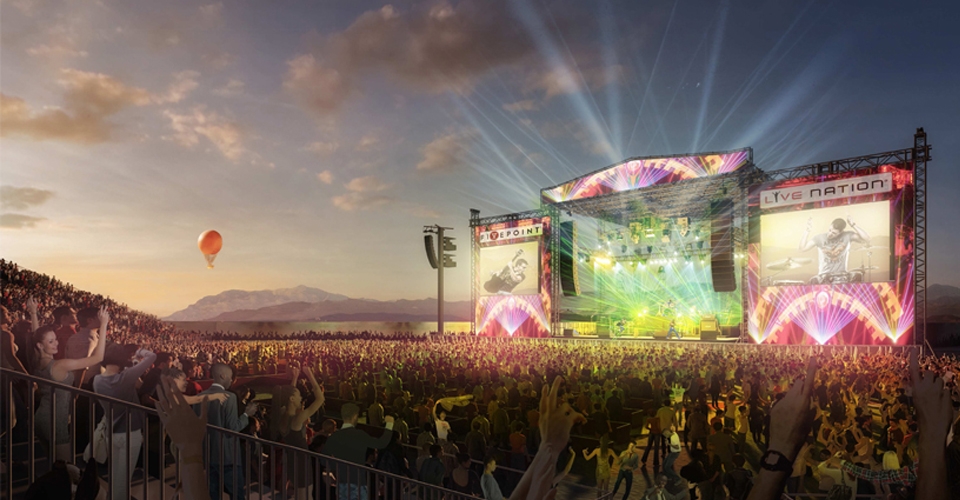 Additional Information:
As a bonus for Mercury Insurance customers with active policies at the time of the event, these customers can get VIP treatment at both Five Point and Glen Helen Amphitheaters with benefits that include:
VIP parking;
Expedited early entry into the venues via the Mercury Insurance Fast Lane; and
Pre-sale offers to purchase tickets 24 hours before they go on sale to the general public.
Mercury Insurance customers are advised to contact their insurance agents or Mercury Insurance customer service for more information in regards to this matter.
Below are useful links for further information on FivePoint Amphitheatre presented by Mercury Insurance:
Parking Information:
Arriving by car? Read about parking options on the  FivePoint Amphitheatre parking information page.
Ticket Policy Information:
For information on ticket guarentees and other ticket related questions, view the FivePoint Amphitheatre tickets page.
Seating Information:
For information on accessible seating and to view the FivePoint Amphitheatre seating chart page.