FivePoint Amphitheatre Seating Chart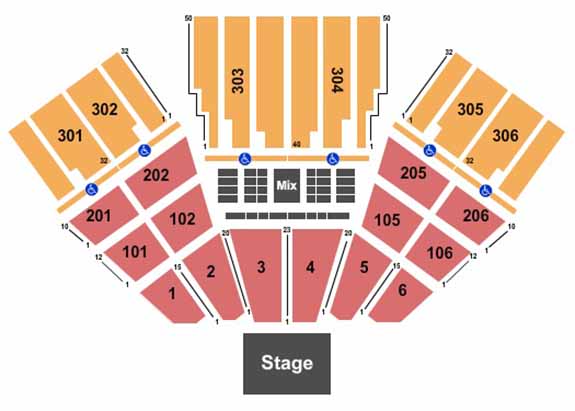 Do expect to feel closer to the performance at the Fivepoint Amphitheatre as the stadium is considered to be smaller than most. The audio and visual effects have been absolutely incredible despite this venue being outdoors and resembling a high school football stand.
Generally, seats are arranged in 3 main sections which are the left, mid, and right sections. Then it is again separated into another 5 categories. Please be aware that these sections may be renamed based on different events. Kindly check the official seating chart prior to purchasing tickets. The only thing that is guaranteed is that premium seats are padded.
Party rockers who enjoy standing may be a little disappointed as Fivepoint Amphitheatre is almost a fully seated stadium with limited space to stand around your seats. The only standing area is at the pit and behind the 300 level seats. In other words, you are most likely unable to see what is happening on stage.
Fivepoint Amphitheatre also offers a special Season Tickets for hardcore show goers. Season Ticket holders will experience VIP treatment when attending their favorite events at the venue. For those who are interested, kindly register on the Live Nation website. Below are the benefits of Season Tickets:
Premium Concert Seats
VIP Parking (closest to the venue)
VIP Club Access
Private Venue Entrance
Private Restrooms
Additional Ticket Opportunities To Other Live Nation concert events in Orange County
Dedicated customer service staff
If not, it is best to buy mid-stage seats for your best experience! Avoid buying seats on the far right above mid-section as the street lights from the parking lot can be glaring after sunset.
NOTE: Seating layouts can vary for different events. Make sure you check the individual event seating map when selecting your event tickets.
Reserve your seat today by securing your tickets!
For more information on the ticket policy and our recommended and preferred ticket provider please view the FivePoint Amphitheatre tickets page.
For all the upcoming events at FivePoint Amphitheatre presented by Mercury Insurance please view the FivePoint Amphitheatre events schedule page.