FivePoint Amphitheatre | Irvine, California
'What a beautiful name it is, the name of Jesus! No matter what storms and challenges passed the last few years, hope rises as the name of Jesus prevails. As the world heals, and live music brings stages across the country back to life, praise and worship is back to gather and unite believers in a night of laying it all down to the One. As one church, each one will call the name of Jesus at Fishfest, led by Hillsong Worship, Tauren Wells, Bethel Music, and Christine Caine at FivePoint Amphitheatre on Saturday, 11th of June 2022. Lift your praises up in Southern California's largest Christian music festival of fellowship, family games, and your favorite praise & worship anthems. Book your tickets now!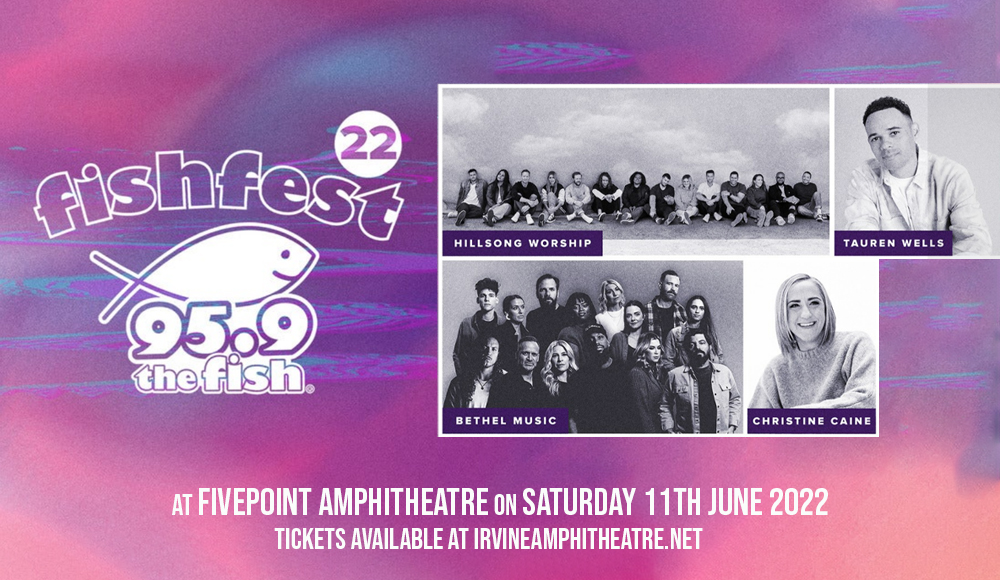 The highly acclaimed Christian music group, Hillsong Worship, traces back to 1983, from Sydney, Australia. Since then, the group took the Christian music scene by storm, amassing global Christian hits including "Mighty to Save", "This I Believe (The Creed)", "Hosanna", "Christ Is Enough", and "What a Beautiful Name" across 26 live albums. They won a Grammy Award for Best Contemporary Christian Music Performance/Song for their Platinum-awarded single, "What a Beautiful Name". Believers around the globe have been touched by Hillsong Worship's personal and captivating lyrical praise.
Tauren Wells is a Grammy-nominated Christian pop-rock and R&B singer behind contemporary Christian hit praise tracks "Famous For (I Believe)" with Jenn Johnson, "Known", and "Hills and Valleys". His two studio records both made it to the top 5 US Top Christian Albums chart.
Bethel Music is a worship movement rooted in California from a local church, becoming a global movement to bring praise and make Jesus known across the globe. Made up of a collective of artists and musicians, Bethel Music's crowd-favorite worship songs include "You Make Me Brave", "No Longer Slaves", "Raise a Hallelujah", and many more across 4 studio albums and 14 live albums throughout their movement.
The show also brings a special guest who'll deliver a captivating message for believers gathering together, united in one purpose of lifting Jesus' name high. That is no other than Christine Caine, the renowned Australian evangelist, author, and international speaker who carries the mission of making her faith, the local church, and justice known in countless events around the world.
It's going to be a special moment to gather and join Hillsong Worship, Tauren Wells, Bethel Music, and Christine Caine, as they lead the crowd to praise and worship the one and only God, live on stage as Fishfest marks its return.
For where two or three have gathered together in My name, I am there in their midst." Matthew 18:20
As the world continues to heal, Fishfest calls believers to unite in this special day led by all-star guests who share the same mission of making the one and only Jesus known. Join fellow believers in an awesome moment of praise and worship at Fishfest. Book your tickets now!