FivePoint Amphitheatre | Irvine, California
HEY YOU! LISTEN UP, this is the best news around right now for all rock and metal fans. Godsmack and Staind will perform in a combined 25 cities across North America, beginning on July 18 at the Hollywood Casino Amphitheatre in St. Louis and concluding on August 31 at the Germania Insurance Amphitheatre. Expect to be astounded when these two incredible groups take the stage and thrill everyone at the FivePoint Amphitheatre with that special type of sauce that only they can deliver. Expect powerful vocals, guitar riffing, heart pounding drumming, and crazy fans waving their hands to fill the amphitheater. The most memorable experience of your life is waiting for you, and all you have to do is scroll above and click the "GET TICKETS" button to obtain your tickets. It will be the best thing you get to do all year so don't let anything or anyone getin your way, DO IT NOW!!!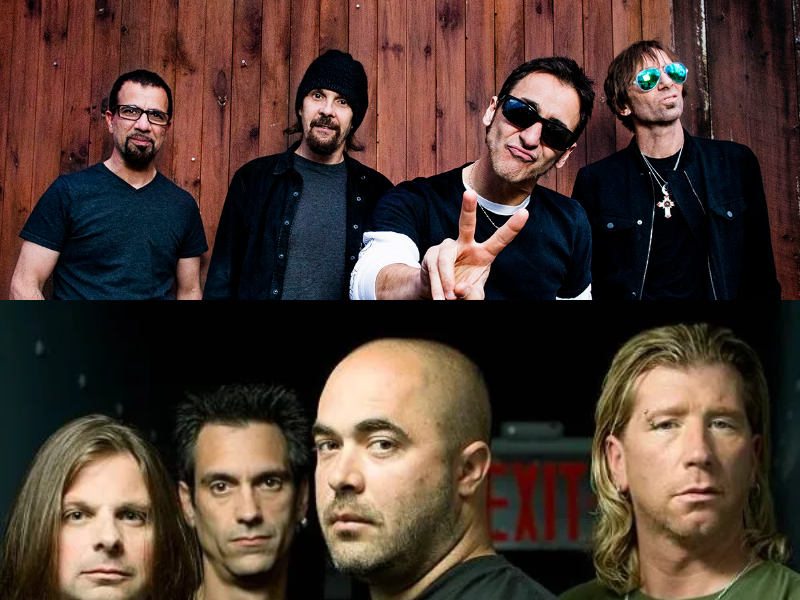 The world would be an uninteresting place without LEGENDS like GODSMACK and STAIND, but luckily they are here, and here to stay. HARDROCK has been pumping through their veins since their formation in 1995, and their fans have shown their appreciation by making three of their albums, FACELESS, IV, and THE ORACLE, number one on the BILLBOARD 200 ALBUM CHARTS in a row. Godsmack burst onto the scene in 1998 with their self-titled debut album, which eventually went quadruple platinum, and have since then consistently provided enthusiastic live shows and radio smashes. Yes, they are that good plus more!!!
Godsmack has had a total of 25 songs that charted in the top ten on rock radio, 18 of which were top five hits. Fun fact: the band GODSMACK was asked to write a song for the movie THE SCORPION KING, and they ended up having a huge hit from it. For 14 consecutive weeks in 2002, that song was the most played active rock single on ROCK RADIO. This tune was also featured in THE PRINCE OF PERSIA, WARRIOR WITHIN.
The legendary rock band STAIND will be performing alongside GODSMACK as co-headliners. The band quickly found success with their first album, titled DYSFUNCTION. The singles "JUST GO," "MUDSHOVEL," and "HOME" from the album became anthems for their respective musical subgenres, and the album peaked at number 74 on the Billboard 200 album chart. Because of the success of their seven studio albums and eight top-ten singles, they have risen to the top of the ROCK food chain, selling over 15 million albums between them. No one can forget the smash hit "It's Been a While," a mainstay of modern rock radio. In fact, that single is now widely considered to be one of the most popular in rock radio history.
Both of these incredible artists will be prepared to take you on a journey of rock and metal awesomeness, complete with booming vocals, thumping drums, and hefty guitar riffs. You simply cannot afford to miss this once-in-a-lifetime opportunity. Don't delay, get your tickets right now before they sell out completely!