FivePoint Amphitheatre | Irvine, California
Not only will you feel Lucky this July 22, but you will also Feel Like Dancing when you immerse yourself in the music of the one and only Jason Mraz! Yes, you've read that right! Mr. A-Z is back on the concert scene this summer, and he will be bringing his latest music to California's FivePoint Amphitheatre. Get your tickets and prepare for an intimate night filled with chart-topping hits, such as "I'm Yours," "93 Million Miles," "You and I Both," "Living in the Moment," and songs from his latest 2023 album. The Grammy award-winning artist's "The Mystical Magical Rhythmical Radical Ride Tour" is sure to give you all the reasons to sing and dance like it's the best night of your life! Score your tickets here by clicking this site's "Get Tickets" link.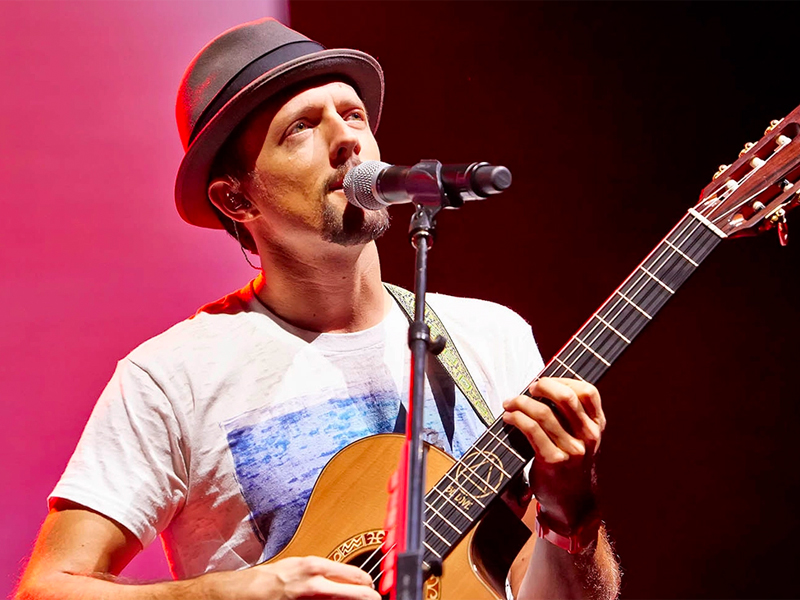 With a distinct voice, mad guitar skills, and genius songwriting skills, Jason Mraz is one of the world's maps beloved artists. He has become a household name worldwide thanks to his massive hits "You and I Both," "I'm Yours," "Lucky," and many others. Even as he's gotten older, he's managed to keep surprising his fans with new layers of complexity and beauty in his songs. And with the upcoming release of his 2023 album, "Mystical Magical Rhythmical Radical Ride," we are in for another great album from Mr. A-Z himself. He has dropped his newest single, "I Feel Like Dancing," and we can clearly see that this is going to be one rad album that is distinctly Jason Mraz's.
The 45-year-old Grammy award-winning artist took the world by storm in the late 2000s with his enormous song "I'm Yours," which was nominated for "Song of the Year" at the 2009 Grammys. Despite the fact that it didn't take home the trophy that year, the song was a massive success for Mraz, earning platinum certifications throughout the world. This was not a surprise, though, as Mraz has been trailblazing the music industry since the early 2000s.
With the release of his first studio album in 2002, "Waiting for My Rocket to Come," he began to garner attention from the mainstream music scene. He became a generational icon after the album's first track, "The Remedy (I Won't Worry)," went platinum. His next two albums, 2005's "Mr. A-Z" and 2008's "We Sing. Dance. We Steal Things," all reached number five on the Billboard 200, with the latter album yielding the Grammy Award-winning singles "Make It Mine" and "Lucky" with Colbie Caillat.
In conjunction with the upcoming release of his 8th studio album this June 2023, Mraz is embarking on a US tour this summer. He will kick the tour off in Troutdale, Oregon, on July 13 and will perform in some of the major venues all over the US. Mraz and his super band will stop at Irvine's FivePoint Amphitheatre on July 22 for a concert experience all Californian fans will surely enjoy. Get your tickets early to get the best seats in the venue. Click the "Get Tickets" link for reservations.