FivePoint Amphitheatre | Irvine, California
It's the tour nu-metal fans have been waiting for as Korn make a triumphant return to the road with special guests Staind! As two of the biggest bands of the early 2000s, Korn and Staind are a match made in nostalgic heaven, so break out the black eyeliner and get ready to embrace the angst, because it's about to get heavy! They'll be joined in support by noise-punk duo '68 and rap-metal band Fire from the Gods! Coming to FivePoint Amphitheatre on Sunday 12th September 2021!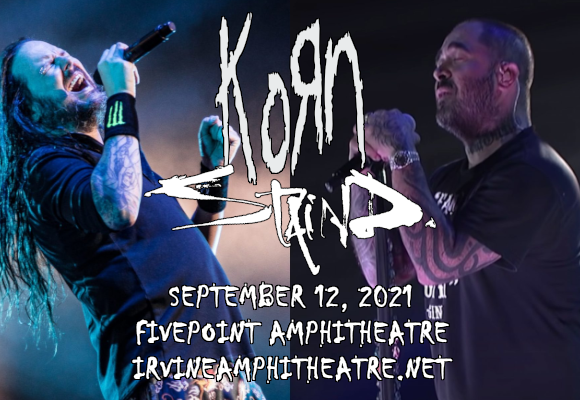 American nu-metal band Korn was formed in Bakersfield, California in 1993 after the funk metal group L.A.P.D. disbanded. The band released its self-titled debut album the following year, but it was their third studio album, Follow the Leader (1998), that brought them mainstream success. The album debuted at number one on the Billboard 200, as did its follow-up, 1999's Issues. Of Korn's 13 studio albums released, 12 have reached the Top 10 of the Billboard 200, with eight reaching the Top Five. Seven of the band's albums have been certified platinum or multi-platinum by the RIAA. They have also won two Grammy Awards from eight nominations and two MTV Video Music Awards out of eleven nominations. Korn's most recent album is 2019's The Nothing, which was named by Loudwire as one of the 50 best metal albums of 2019.