FivePoint Amphitheatre | Irvine, California
Pacific Symphony: Tchaikovsky Spectacular is finally on tour in California! The highly acclaimed orchestra is excited to perform some of the best classical at the FivePoint Amphitheatre on Saturday, September 9, 2023! It will be featuring timeless works by the most popular musicians and composers of all time: Beethoven, Rachmaninoff, and the biggest highlight of the day–Tchaikovsky. But that's not all! There will be a huge fireworks and cannon show under the stars! This concert promises an evening of musical enchantment, showcasing the orchestra under the baton of their incredible conductor, Carl St. Clair and Claire Huangci on the piano. Come by the amphitheater to be part of the popular traditional finale to Pacific Symphony's SummerFest . The Pacific Symphony: Tchaikovsky Spectacular is truly a once-in-a-lifetime event. Book your tickets now and treat yourself to a glorious evening of music that will leave you breathless!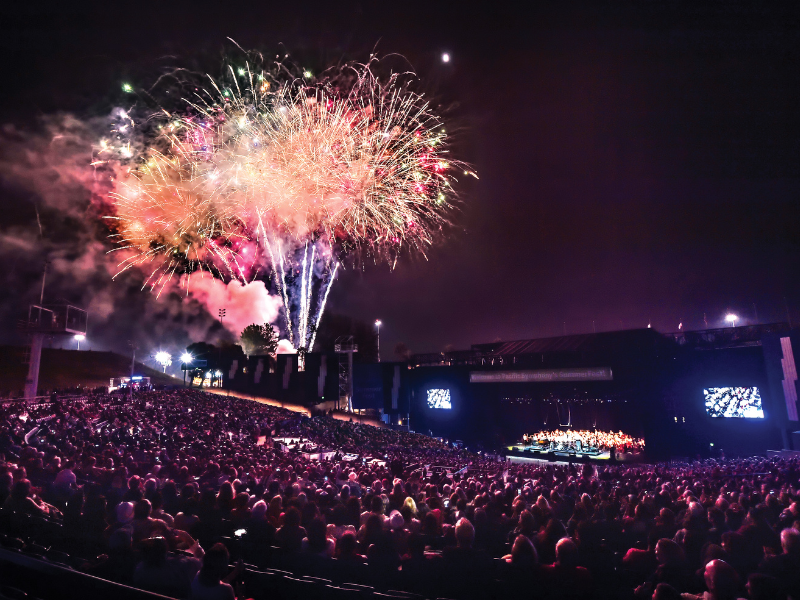 "Powerful, passionate, immensely involving, and urgently played," – These are the words that describe the Pacific Symphony's clever approach to Tchaikovsky's timeless compositions.
As it commemorates its SummerFest 2023, the Pacific Symphony proudly marks a decade of artistic excellence by performing Tchaikovsky Spectacular at FivePoint Amphitheater on Saturday, 9th of September 2023. Under the exceptional leadership of Music Director Carl St. Clair, who has guided the Symphony for the past 29 years and the incredible Claire Huangci on the piano. It will feature Beethoven's Symphony No. 6, Rachmaninoff's Piano Concerto No. 2, and Tchaikovsky's "1812" Overture.
With its outstanding achievements both nationally and internationally, as well as its unwavering commitment to its local Orange County community, the Pacific Symphony has become one of the iconic groups in the world of classical music. Boasting over 100 concerts and events annually, along with a diverse range of educational and community engagement initiatives, the Symphony reaches out to more than 300,000 residents each year.
"The Symphony and St. Clair interacts in a charming, immaculately smooth performance teased out with historically-informed ornaments and trills and turns," Bach Track shares. From inspiring school children to engaging senior citizens, the Symphony's programs touch the lives of individuals from all walks of life.
Through its dynamic performances and innovative programming, the Pacific Symphony continues to make significant strides in the realm of orchestral music. The ensemble's dedication to artistic excellence, coupled with its deep-rooted connection to its community, has solidified its position as a truly remarkable orchestra, leaving an indelible impact on both local and global audiences.
The Tchaikovsky Spectacular will take you on an extraordinary symphonic journey, complete with fireworks and cannons display, inviting both seasoned classical music enthusiasts and newcomers alike.
So, whether you're an ardent fan of classical music or simply seeking a remarkable cultural experience, this performance offers an opportunity to witness the timeless brilliance of Tchaikovsky's compositions, brought to life by the extraordinary talents of the Pacific Symphony.
Don't miss this opportunity to witness musical splendor on September 9th, 2023, buy your tickets now!